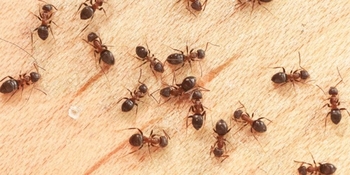 Ants are social insects that typically live in underground colonies, made up of workers and a queen. Ants will eat practically any kind of food, but are especially attracted to sweets. Ant identification is relatively simple due to their three distinct body regions: head, thorax and abdomen, as well as antennae. Despite similar construction, ants vary in overall appearance. Small or large ants and brown or black ants are common nicknames for different species.
Ants may enter your house foraging for food or seeking shelter. Understanding the behavior of ants will help you with the recommended pest control procedures outlined here. They enter through the smallest openings, foraging for water or food. They are in search of either sweet based food or protein/grease based foods. Once they find a food source, ants will leave a pheromone trail for other ants to follow.
Small Black Ant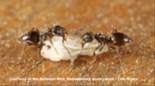 Small black ant workers are very small, about 1/16", shiny black in color, and slow-moving. There are two nodes present on the pedicel. Colonies are moderate to large and contain multiple queens. New colonies are formed by swarmer's which are typically seen June to August. This ant may nest in many different places, including in mulch, logs, stumps, and in piled items. Little black ants may invade homes in search of a wide variety of foods including sweets, meats, grease, and bread. Outdoors, this ant feeds on insects, honeydew, pollen, and sweet plant secretions.
Carpenter Ants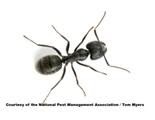 Carpenter ants get their name because they excavate wood in order to build their nests. Their excavation results in smooth tunnels inside the wood. These are large ants ranging in size from one-quarter inch for a worker ant to up to three-quarters inch for a queen.
Pavement Ants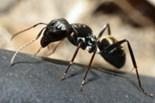 Pavement ants get their name because they make nests in or under cracks in pavement. These dark brown to black ants can also infest structures.
Red Ants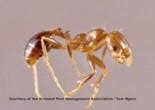 Red ants get their common name from their ability to inflict painful bites and stings. These dark reddish-brown ants are an invasive species.
Thief Ants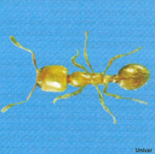 Thief ants get their name from their habit of nesting very near other ants, which they then rob of food and brood (larvae and pupae). Colonies tend to be smaller than those of other species, but can contain many queens and several thousand workers. Thief ants are also known as grease ants and are often confused with pharaoh ants, although they differ in characteristics.